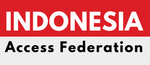 Indonesia Access Federation (FEDERASI) is a service for research and education network entities (including and not limited to universities, schools, and research institutes) in Indonesia that provides users of those entities to a seamless access to academic e-resources, e-libraries, cloud service providers, and other partners.
Users of those entities can access the online resources with a Web Single Sing-On, using their own institutions' credentials, without having to remember different usernames and different passwords for different services.
In order to become FEDERASI member, your organisation should be either an Identity Provider (IdP) or Service Provider (SP). FEDERASI uses Shibboleth as the backend that supports standard protocol for exchanging credentials in a secure way i.e. Security Assertion Markup Language (SAML). This protocol is commonly used by many organisations including higher education to access services such as Google Suites Education, Microsoft Office 365, etc.
The benefits of becoming FEDERASI member are:
For Academic Staffs, Researchers, and Students: Easy access to your organisation's e-resources that your organisation is subscribed to or from any research education network institution around the world that provides e-resources with access federation. You can use your own credential from your institution to access those resources
For Identity Provider (IdP): You can enable your researchers, staff members and students to access a wide range of e-resources through your institution credentials.
For Service Provider (SP): You can provide access to authorised users without having to manage your own users' database, and you don't need to maintain direct contact with each individual institution.
You can see our federation policy at https://federasi.id/federation-policy/